When I was a kid, my grandmother would make peanut butter "protein" balls as a healthful treat. I loved them, but in hindsight they weren't really so healthful: Made with graham cracker crumbs, powdered milk and honey, they were delicious, though not nearly as nutritious as she'd intended.
Still, she was on to something: Bite-sized treats are perfectly portioned snacks, whether it's to fuel up for workouts or after-school practice, or just as an afternoon pick-me-up or evening sweet treat.
Here are three no-bake recipes for "Protein Bites," updated. Each has 110 calories and 6 grams of protein. The only "added" sugar is from dates or applesauce, and the sodium is crazy-low for all three versions. They're all gluten-free, and two can easily be made vegan.
Each "Protein Bite" recipe has its own unique flavor profile (for example, coconut-date, matcha green tea, and chocolate-cayenne), along with the key nutritional benefits of purposeful, thoughtfully-selected ingredients like matcha green tea, hemp seeds and chia seeds.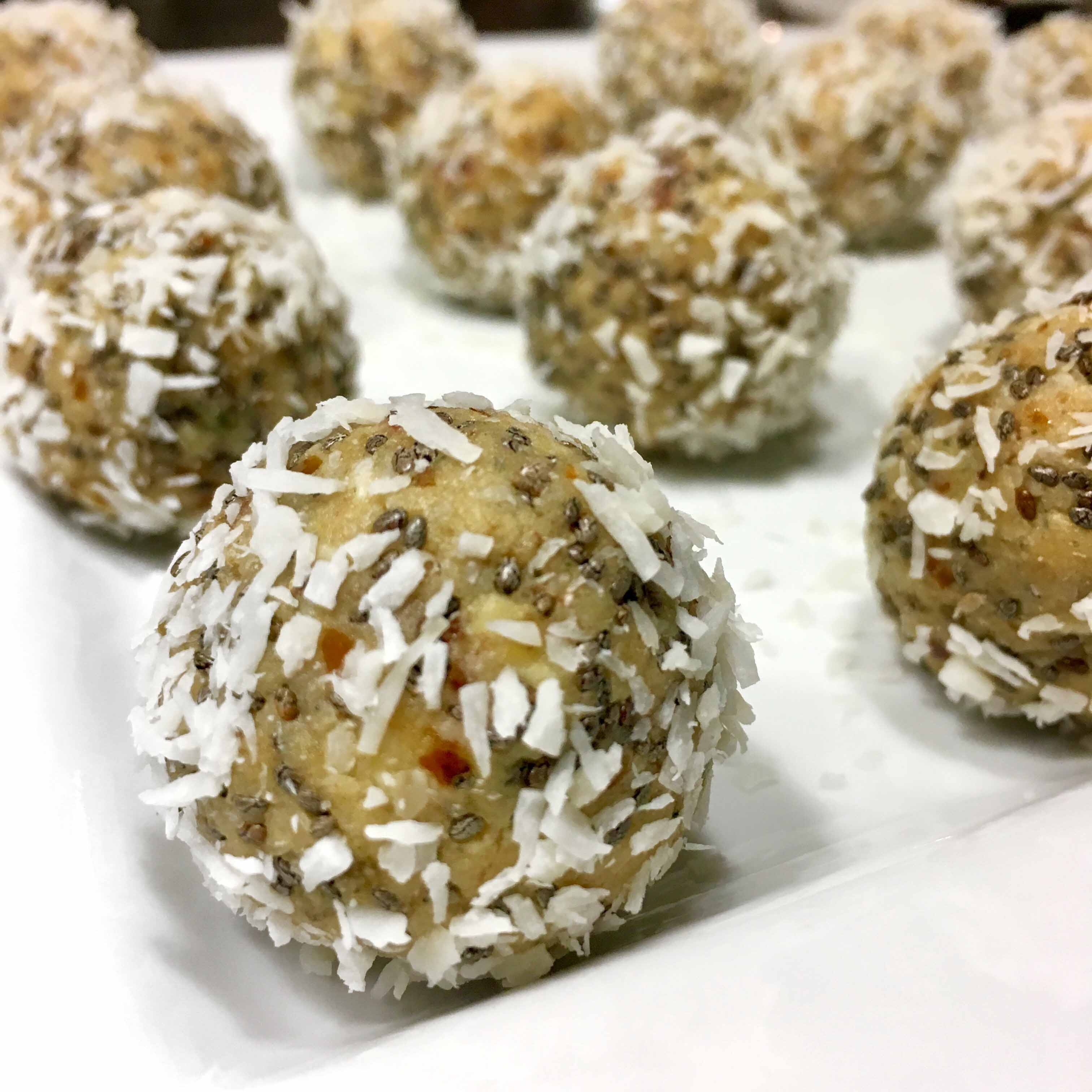 Made with simple ingredients with no added sugar, Siggi's yogurt adds a creamy smoothness that complements the nutty cashew crunch. Recipe adapted from Siggi's recipe for Food & Nutrition Test Kitchen.
Coconut Date Protein Bites
Makes 18 servings
1/3 cup Siggi's 0% milkfat yogurt, plain
1/2 cup dates, pitted
1/4 cup cashews
1/4 cup hemp seeds
1/4cup chia seeds
1/2 cup almond flour
1 dash of salt
1/2 cup coconut flakes, unsweetened, plus more for rolling
Combine all ingredients in food processor and blend to desired consistency. The larger the pieces in the dough, the crunchier the balls will be.
When desired consistency is reached, form into small balls. Then, coat balls in the coconut flakes.
Store in the refrigerator and enjoy as a quick snack!
Per Serving: 110 calories, 7 grams fat, 2 grams plant based saturated fat, 33 mg sodium, 9 grams carbohydrate, 2 grams fiber, 5 grams sugar, 6 grams protein.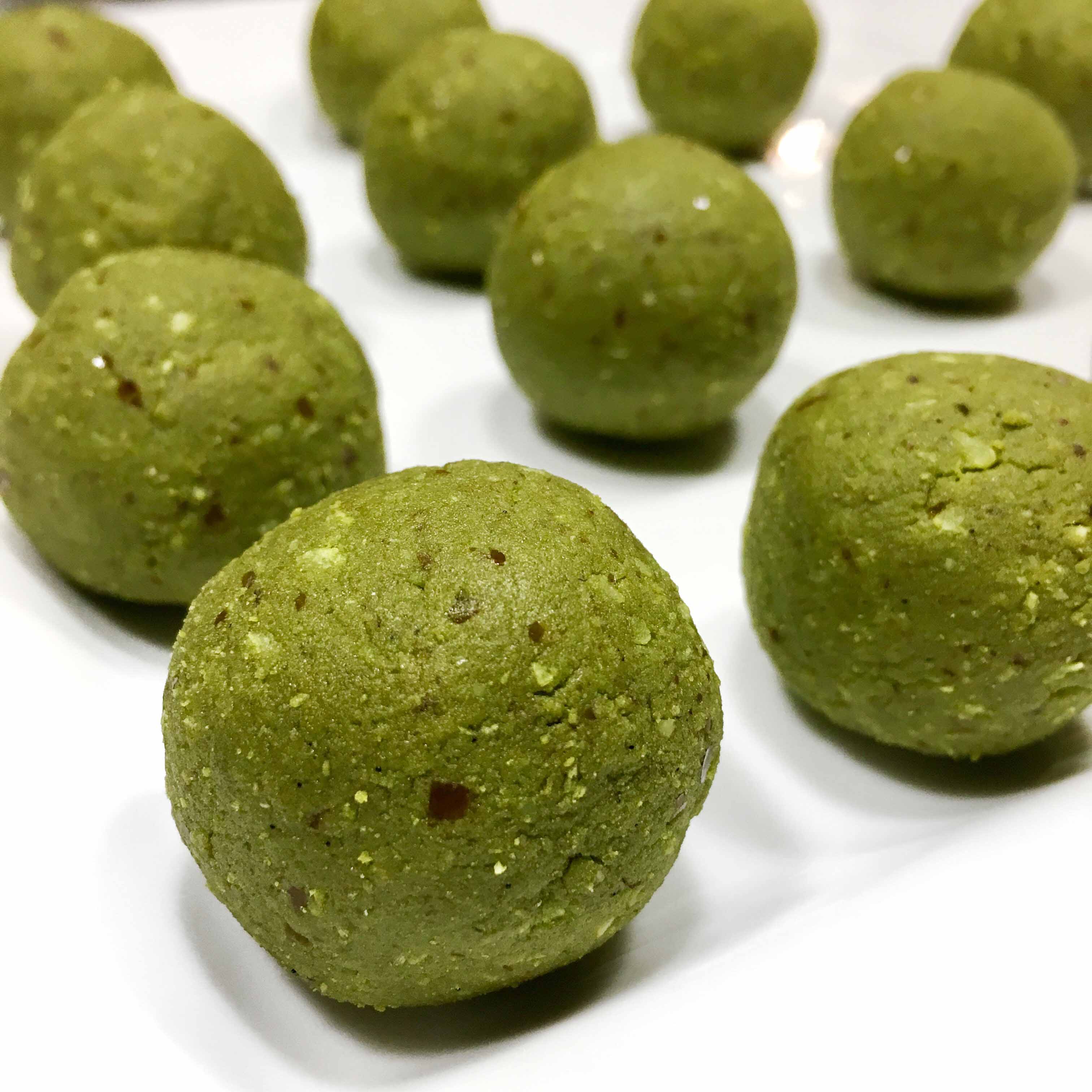 With matcha green tea, the whole leaves are ground into a fine powder, so we reap even more of green tea's antioxidant benefits. Adapted from the Sweet and Spicy Monkey Blog, these protein bites combine the health benefits of matcha and vanilla protein for an energizing sweet treat with the flavors of green tea and just a hint of vanilla.
Protein powders are available at area health food stores.
Matcha Green Tea Protein Bites
Makes 12 servings
Place cashews, coconut and dates in food processor and blend into small pieces. Add coconut oil, applesauce, protein powder and matcha powder. Pulse until ingredients are blended into throughout nut mixture.
Shape matcha dough mixture into balls by pressing dough together with fingers, not palms of hands.
Chill in refrigerator for one hour before eating. Store refrigerated in airtight container for up to one week.
Per Serving: 110 calories, 5 grams fat, 3 grams plant based saturated fat, 25 mg sodium, 13 grams carbohydrate, 2 grams fiber, 9 grams sugar, 6 grams protein.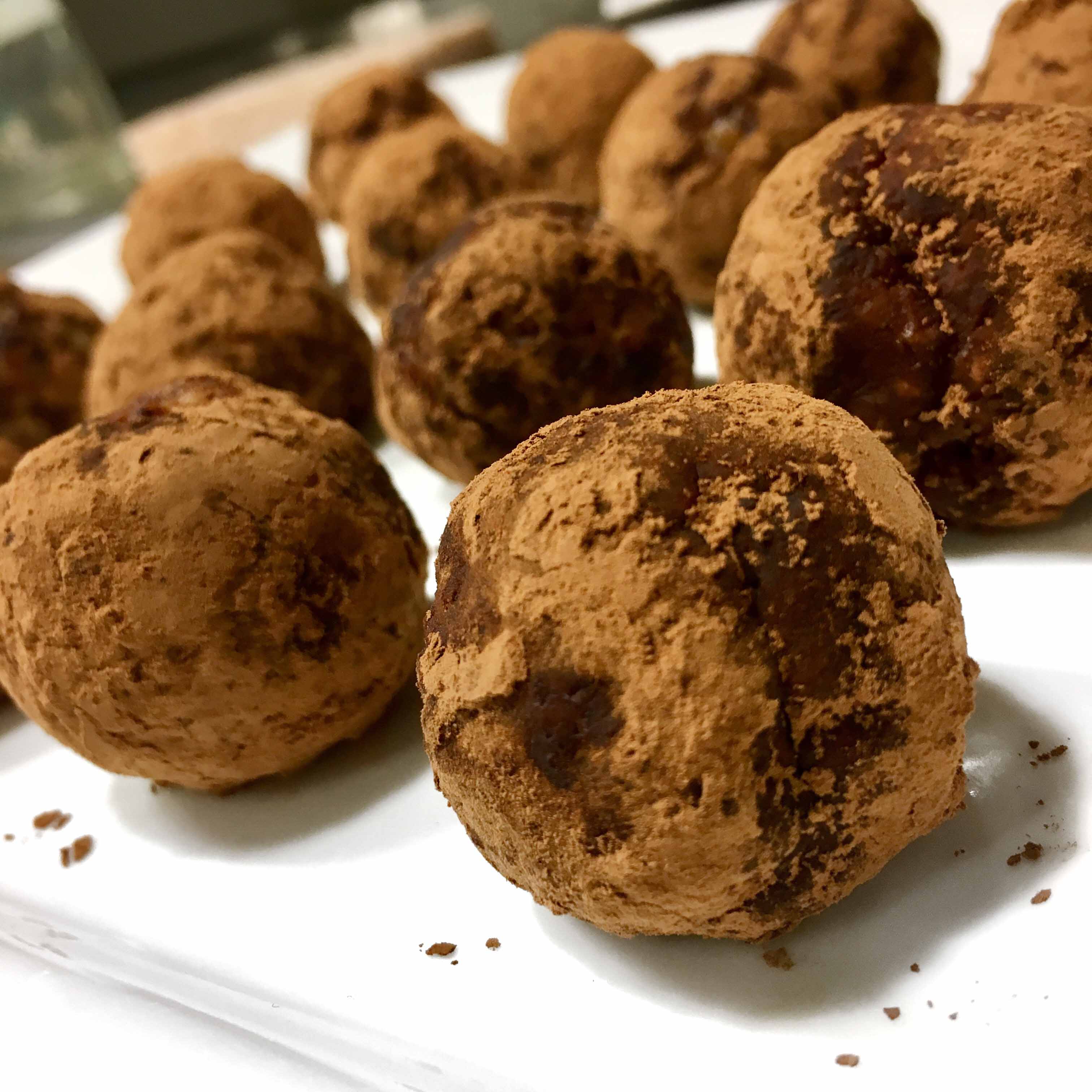 Nut butter and toasty oats rolled with rich chocolate and the subtle heat of cayenne come together to create these unique protein bites that will keep you coming back for more. Recipe adapted from The Healthy Maven.
Madhava agave FIVE and protein powder are available at health food stores.
Chocolate Cayenne Protein Bites
Makes 24 servings
1-1/2 cups rolled oats, lightly toasted
1/2 cup cashews
4 scoops vanilla protein powder (e.g. Designer Whey Natural Vanilla or make them vegan with Garden of Life RAW Vanilla)
1/2 teaspoon cinnamon
2 Tablespoons chia seeds
1/2 cup almond butter, smooth, natural, unsalted
3 tablespoons Madhava agave FIVE
1 teaspoon vanilla extract
3 tablespoons coconut milk, unsweetened
1/8 teaspoon cayenne pepper
2 tablespoons cocoa powder, unsweetened, for rolling
In food processor, chop oats into small pieces. Place in small bowl and set aside. Repeat process with cashews.
In large bowl, combine oats, protein powder, cinnamon and chia seeds to large bowl. Add in nut butter, Madhava agave FIVE and vanilla extract. Stir to combine.
Slowly add in coconut milk, one tablespoon at a time, and knead dough using hands to combine until it becomes a sticky ball. If mixture is too dry, add another tablespoon of milk.
Roll dough into small balls. In a medium bowl, combine cayenne pepper and cocoa powder. Coat balls in cayenne cocoa mixture. Store in fridge until ready to eat.
Per Serving: 110 calories, 6 grams fat, 1 grams plant based saturated fat, 15 milligrams sodium, 10 grams carbohydrate, 2 grams fiber, 3 grams sugar, 6 grams protein.
***
Editor's note: Registered dietitian Molly Kimball offers brand-name products as a consumer guide; she does not solicit product samples nor is paid to recommend items.