As much as I'm a proponent of plant-based foods, I'm not a fan of the flavor or texture of most vegan "cheese." Most of the options on grocery shelves aren't what you'd call culinary treasures.
Along with being blah tasting, most store-bought varieties is not great nutritionally speaking, either, with many brands centered on ingredients like potato, rice or tapioca starch and oil.
This is bad news for those who love cheese, but who eat a plant-based or low-sodium diet for health reasons or because they have chosen to be vegan. It's also given the very idea of "vegan cheese" a bad name.
One exception is Miyoko's Creamery's vegan cheese, made with ingredients such as cashews, miso, nutritional yeast and cultures. The taste and texture is better – more "cheese-like" – than other store-bought vegan cheeses, with 5 grams of protein per serving.
(Also, Seed on Prytania Street, for example, does an incredible job with its Eat Fit NOLA-approved vegan grilled cheese sandwich, as well as its loaded nachos.)
So, when I received a copy of Jules Aron's "Vegan Cheese: Simple, Delicious Plant-Based Recipes" (May 2017, Countryman, $24.95) cookbook filled with gorgeous photos of dairy-free, plant-based cheeses that looked nothing like the sad little blocks and slices in stores, I was intrigued.
Our Ochsner Eat Fit NOLA ambassador Emily Eickhoff is a huge fan and advocate for all things plant-based, so she happily tried out a few of the recipes, and they did not disappoint.
In fact, they turned out to be healthful, plant-based spreads that even non-vegans — who have tried and been disappointed in so-called vegan cheeses — would enjoy.
If you didn't know the "gorgonzola" was vegan, you would have no idea that the sliver of a blue vein to give it the "blue cheese" appearance is actually spirulina, a freshwater blue-green algae. Or that Brazil nuts are the key ingredient used in the Smoked Chipotle cheese.
One of the things I love about Aron's approach is that each variety of vegan cheese is different. Some are centered on nuts or seeds, others use tofu to get their creaminess, and still others (like her Cauliflower Jack) are centered on vegetables.
While a small amount of fat-laden cheese is OK as an indulgence, the plant-based spreads in Aron's cookbook can be part of an everyday diet. They are lower in calories, sodium and fat than their dairy-based counterpart, and contain zero animal-based saturated fats or lactose. (Side note: most dairy-based cheeses are also relatively low in lactose, with some hard cheeses containing close to zero lactose).
Most of the firmer cheeses use agar (derived from red algae; available in many health food stores, Asian markets and online) or vegan gelatin (available in most health food stores) to thicken, stabilize, and give the cheese its shape. One can be substituted for the other, though Aron writes that less agar is usually needed to get the desired firmness. She also notes that highly acidic ingredients such as lemons and other citrus may require more agar, since the enzymes break down the gelling ability of agar.
The only "drawback" for some may be the advance time needed to make some of these cheeses.
The hands-on prep time usually is less than 30 minutes for most recipes, but many require that the nuts and seeds soak as long as 12 hours, and some include a fermentation step that can take up to 72 hours.
Once prepped, some of the spreads are ready to eat immediately, while others may need anywhere from two to 72 hours to set.
Here are three of our favorite recipes from Aron's "Vegan Cheese" cookbook – ones that I predict any party guest would enjoy. Test them and see for yourself.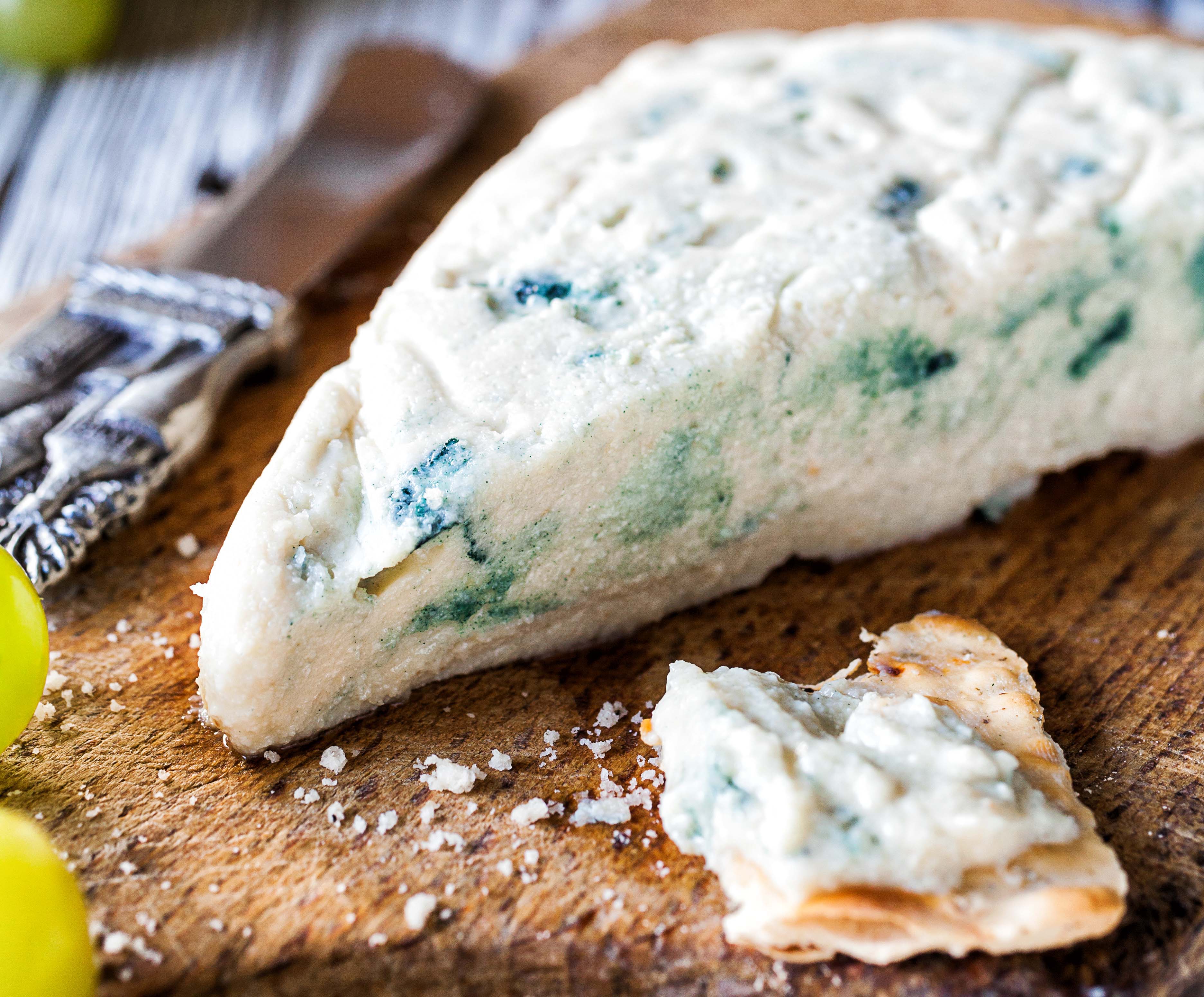 This dairy-free cheese has all of the pungent tanginess of classic gorgonzola. Pair with fresh fruit, spread onto whole grain crackers, or crumble atop a salad. Find spirulina, freshwater blue-green algae, can be purchased at health food stores or Asian markets.
Vegan Gorgonzola | Vegan, Nut-Free, Seed-Free
Makes 8 servings
7 ounces extra-firm tofu
1/4 cup organic refined coconut oil, melted
1 tablespoon fresh lemon juice
1 tablespoon white wine vinegar
2 tablespoons white miso paste
1 teaspoon sea salt
1/2 teaspoon onion powder
1/2 teaspoon garlic powder
1/8 teaspoon spirulina
Drain and press tofu to release its liquid. Place all ingredients, except spirulina, into blender and process until smooth.
Transfer mixture to a bowl, dot cheese with spirulina, and fold it over a few times to create blue-green veins.
Place cheese mixture into a container lined with plastic wrap and pack it with a spatula, smoothing the surface. Cover and refrigerate for 6 to 8 hours to firm and set.
Wrap in plastic wrap and store in sealed container in the refrigerator. Will keep, refrigerated, for 1-2 weeks. The flavor will continue to develop as it ages.
Per serving: 60 calories, 6 grams fat, 4 grams saturated fat, 260 mg sodium, 2 grams carbohydrate, <1 gram fiber, 1 gram sugar, 2 grams protein.